Recreational Gymnastics Club for boys and girls in Monmouth
NOTICEBOARD
Summer Term 2019
In order to avoid a clash with Monmouth Show on 6th July our Open Day for parents will now take place on Friday 5th July @ 6:00 pm. All children are involved, it is a fun way to end the year and for all the children to get together as a club. If there is any reason that your child will not be attending please let me know asap as children missing can spoil the routines for others. All girls will need to wear their club leotards, Wednesday and Saturday Juniors red leotards (matching shorts optional), Seniors black club leotards and shorts. Please tie long hair back. Please ensure your child has a drink. Any raffle prize donations would be greatly appreciated. This is our only fund raising event.
Monmouth Gym Club have again been asked to take part in this years carnival procession on Sunday 30th June. If you would like your child to take part please let me know.
If your child would be interested in a five week training camp in the summer please let me know, as long as there is enough interest it will run for the first 5 weeks of the holidays.
Welsh Festival Saturday 13th July
The Display Team and Senior girls will need to pay the £10 entry fee for the Welsh Gymnastics Festival by 1st June. A coach to take the children has been booked and paid for by our sponsor. There are limited seats available for any parents wishing to travel with us. Parents going will need to purchase tickets from Welsh Gymnastics. Tickets are not on sale at the event.
GIRLS SEND BEST WISHES TO COMMONWEALTH TEAM
The Commonwealth visit to Monmouth Gym Club by Welsh Gymnastics officials was very exciting. The girls got to sign good luck messages on the flag to be presented to the Welsh Gymnastics Team going out to Australia.
NEW SPORT LEADERS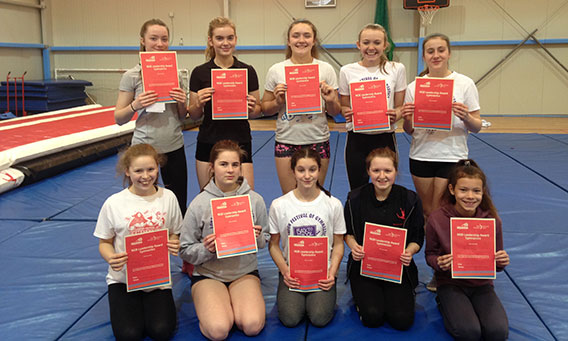 We are very proud to have 12 new qualified Sports Leaders.
FESTIVAL DIARY DATES
The Festival Display Team will be performing at the following events in 2019.
Friday 5th July
Club Display
Saturday 13th July
Welsh Festival
19th/20th October
London Festival

TERM DATES
Next term starts on Wednesday 1st May 2019 and Saturday 4th May 2019.
• Saturday classes return on 4th May
• Wednesday classes return on 1st May
There will be no gymnastics at Half Term which is Wednesday 29th May and Saturday 1st June.
• Saturday classes finish on 5th July
• Wednesday classes finish on 3rd July

WANT TO TRY GYMNASTICS?
Register today to join our waiting list. We'll contact you when a place becomes available.

ORDER FORM
To order our club kit, please print off a copy of our order form, complete and return to Karen with your full payment.