Recreational Gymnastics Club for boys and girls in Monmouth
NOTICEBOARD
Spring Term 2019
Both Terry and I would like to wish everyone a very Happy New Year. We will be staying in the sports hall for the foreseeable future as there seems to be on going discussions between the school and leisure department over the use of the smaller room.
Please can all fees be paid on the first session back.
Please can all outstanding badges be paid for on the first session back.
I can only apologise for the hoodies and leggings not being ready for Christmas. I was told they would be ready for the last week of term and have been left disappointed that they didn't arrive.
GIRLS SEND BEST WISHES TO COMMONWEALTH TEAM
The Commonwealth visit to Monmouth Gym Club by Welsh Gymnastics officials was very exciting. The girls got to sign good luck messages on the flag to be presented to the Welsh Gymnastics Team going out to Australia.
NEW SPORT LEADERS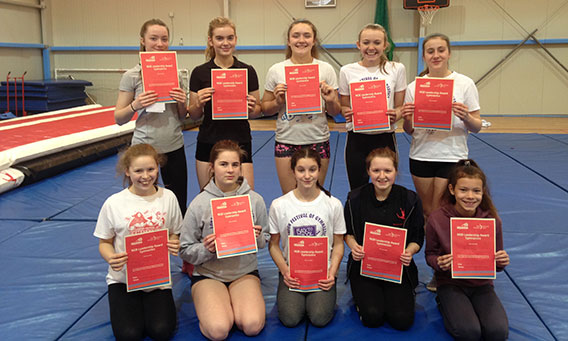 We are very proud to have 12 new qualified Sports Leaders.
FESTIVAL DIARY DATES
The Festival Display Team will be performing at the following events in 2019.
Saturday 6th July
Club Display
Saturday 13th July
Welsh Festival
19th/20th October
London Festival

TERM DATES
Next term starts on Wednesday 16th January 2019 and Saturday 19th January 2019.
• Saturday classes return on 19th January
• Wednesday classes return on 16th January
There will be no gymnastics at Half Term which is Wednesday Wednesday 27th February and Saturday 2nd March.
• Saturday classes finish on 6th April
• Wednesday classes finish on 3rd April

WANT TO TRY GYMNASTICS?
Register today to join our waiting list. We'll contact you when a place becomes available.

ORDER FORM
To order our club kit, please print off a copy of our order form, complete and return to Karen with your full payment.