All the latest news at Monmouth Gymnastics Club
GYMFEST WALES 2019
The Monmouth Gym Club girls at Gymfest Wales in Cardiff, July 2019.
GIRLS SEND BEST WISHES TO COMMONWEALTH TEAM
The Commonwealth visit to Monmouth Gym Club by Welsh Gymnastics officials was very exciting. The girls got to sign good luck messages on the flag to be presented to the Welsh Gymnastics Team going out to Australia.
NEW SPORT LEADERS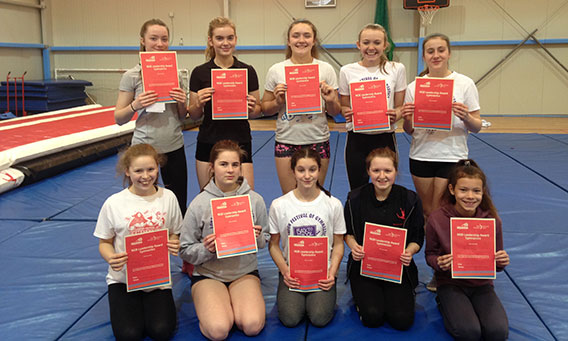 We are very proud to have 12 new qualified Sports Leaders.
GIRLS TRAIN WITH NEW EQUIPMENT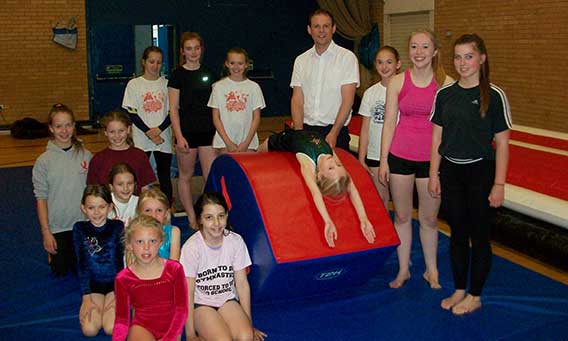 The girls in the Display Team enjoyed practising with the new back handspring trainer which was bought with the money collected from the club display and a very generous donation by Nathan Chidwick from Monmouth Physiotherapy.
BADGES FOR THE BEGINNERS GROUP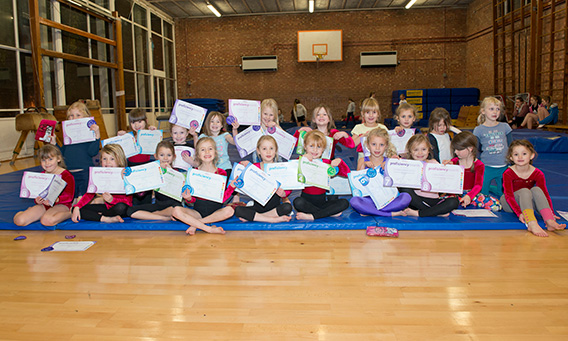 There was much excitement as the beginners group received their British Gymnastics Proficiency Awards badges and certificates. A range of badges were awarded with each girl receiving two, from level 8 up to level 4. Well done to all the girls!
SPORTS LEADER GYMNASTIC AWARD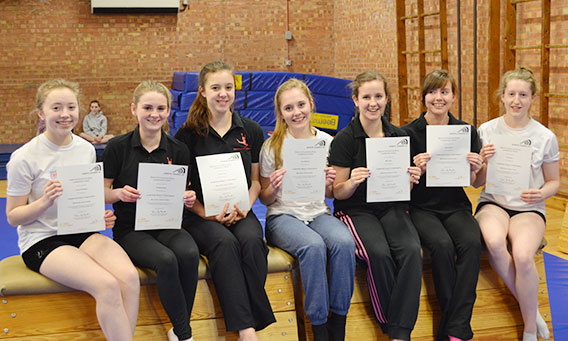 We are very proud that 7 of our girls have now passed their Sports Leader Gymnastic Award, the girls already coach at the club. They are very supportive and committed. Well Done Girls!
SPONSORED CARTWHEELS FOR MIND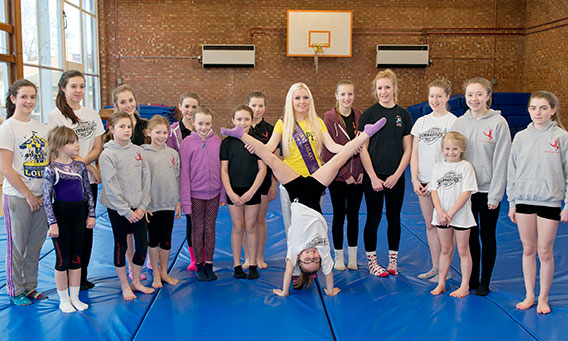 On 2nd February 2014 the squad girls did a sponsored cartwheel (500 as a group) to support an ex squad member, Tash, who is raising money for the charity MIND. The girls raised a total of £151.06 which is fantastic. Thank you to all who took part and those who sponsored the girls.
MONMOUTH'S GOT TALENT
A team of gymnasts from Monmouth Comprehensive School have qualified for the finals of Monmouth's Got Talent. All are members of Monmouth Gymnastics Club and we wish them good luck for the finals!
SOUTH WALES SPORTS ACRO CHAMPIONSHIPS
Very big congratulations to Meg, Lou & Erin who took the Silver medal in Grade 4 and Ellie, Amelia & Georgia who took Silver in Grade 3 in the South Wales Sports Acro Championships in Swansea. We are very proud of all the girls!
GYMBACH VISITS MONMOUTH GYMNASTICS CLUB
Gymbach, Welsh Gymnastics's Commonwealth Club Relay Mascot, started his club relay tour of Wales with a trip to Monmouth Gymnastics club and was treated to a preview of their 2014 Gymeisteddfod display. The photo shows Gymbach with the Festival Display Team.
BADGES BADGES BADGES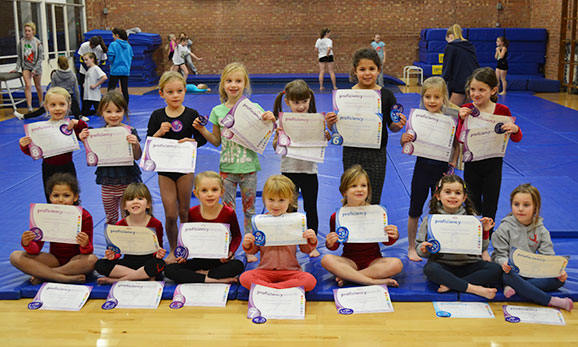 The girls in the beginners class were delighted to receive their British Gymnastics Proficiency Awards on Wednesday. All the girls received two badges, some at levels 8 and 7, some at levels 7 and 6, and one girl received levels 6 and 5. Well done!